You're viewing: Home >> Tungsten Carbide Jewelry Advantage


Tungsten Carbide Jewelry Advantage
Tungsten carbide is the latest cutting-edge metal to reach the jewelry market. Our tungsten jewelry has a brilliant high polish or a fabulous brush finish. These tungsten jewelry pieces will come anywhere from a high polish to brushed to a black ice coloring. Tungsten Jewelry are made to last a lifetime.
Tungsten jewelry is a natural choice for men who want a resilient metal that shows little signs of tungsten jewelry wear. The tungsten jewelry is very masculine because of the tough and enduring qualities of this unique metal tungsten jewelry. Tungsten is a heavy metal yet also hypoallergenic. Our tungsten jewelry is virtually scratchproof, and make the perfect tungsten jewelry gifts for graduation, Father's Day, Valentines Day, Groomsman gift or for a Wedding Band for that special occasion you wish to use tungsten jewelry to commemorate. Our large selection of gorgeous tungsten wedding bands is sure to instill commitment and integrity into your marriage. Tungsten jewelry flawless features and tungsten jewelry virtually indestructible nature create a look and feel like no other. Select from a vast array of tungsten jewelry sure to match your look perfectly. We are professionally engaged in the development and production of tungsten jewelry and ceramics, mahogany, stainless steel and other tungsten jewelry materials in the design and manufacture of jewelry products.
Competitivetungsten jewelry prices, good tungsten jewelry quality, prompt delivery and satisfied service are guaranteed. Tungsten jewelry orders are welcome. For more tungsten jewelry information, please feel free to contact us. We are looking forward to forming business relations with tungsten jewelry customers from all over the world.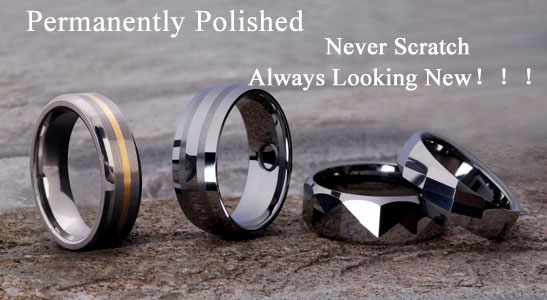 You can find more information about tungsten products on Tungsten Alloy.
If you have any interest in the product, please feel free to email us: sales@chinatungsten.com or call us by: 0086 592 512 9696, 0086 592 512 9595. We are at your service.